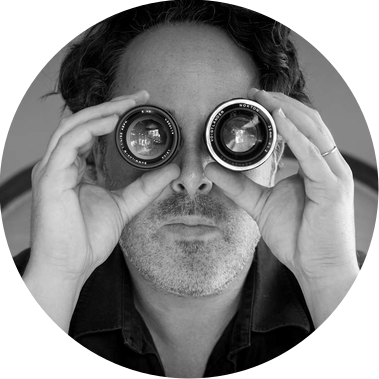 Now based in Los Angeles and California's Sierra Nevada, Dotan was born in Israel as the son and grandson of holocaust survivors. He grew up in a modest Parisian suburb and moved to the US as a young adult. After a 20 year career in high-tech Dotan retrained as a documentary photographer. He attended the Eddie Adams Workshop, the Missouri Photo Workshop and studied photojournalism at Santa Monica College.
Dotan's photographs have been published by National Geographic, The Guardian, Los Angeles Times, etc. and exhibited by galleries in the US, Europe and Asia. Leica has prominently featured Dotan's work in its 2021 worldwide branding campaign "The World Deserves Witnesses". Dotan teaches for Leica Akademie, Momenta Workshops and is a frequent lecturer at the B&H Event Space. He has published two monographs: Venice Beach, Kehrer Verlag 2018 and Nowhere to Go but Everywhere, Kehrer Verlag, 2020.
Teaching
Leica Akademie Venice Beach Street Photography with Dotan Saguy - September 2021
Online Street Photography Masterclass
Leica Akademie Venice Beach Street Photography with Dotan Saguy - March 2019
Leica Akademie Destination Romania with Dotan Saguy - July 2019
Education
Eddie Adams Workshop XXIX Oct. 2016

Missouri Photo Workshop #68 Sept. 2016
Aline Smithson. The Next Step. Fall 2016
Momenta Workshops Project LA: Shooting for Non-Profits. Feb. 2016
Sport Shooters Academy XII. Nov. 2015
Advanced Photojournalism Course (JOURN 22). Santa Monica College, Fall 2015
Exhibits

Solo exhibit "Venice Beach" at Venice Arts August-September 2018 in Los Angeles, CA
Kehrer Gallery: US BLUES featuring Paul D'Amato, Pamela Littky, Dotan Saguy, Jay Wolke
Summer 2018
Temple Isaiah, Los Angeles: "From Generation to Generation" Photo Exhibit. Sept. - Oct. 2016

Hive Gallery Fine Art exhibit in downtown Los Angeles. Sept. 1 to Oct. 3 2016

Los Angeles Center of Photography 3rd Annual Members Show. Aug. 2016.

Los Angeles Center of Photography Street Shooting in Los Angeles Exhibition. June 18 to July 22, 2016

1650 Gallery, Los Angeles. Streetscapes Exhibit. June/July 2016.

Wall Street Gallery, Los Angeles. May 2015.
Honors & Awards
Featured prominently in Leica's 2021 worldwide branding campaign "The World Deserves Witnesses"
"On top of the world" juried into the 2019 International Exhibition at the Center for Photographic Art in Carmel, CA in November 2019.
1st place award winner at the Annual Members' Exhibition 2019 of LACP
Deutscher Fotobuchpreis Bronze prize 2018-19
Photolucida Critical Mass Top 50
PDN Exposure Award 2016 - Honorable Mention
National Geographic: Winner of "Ask a Local" Yourshot photo story. Prize: assignment with National Geographic in Seoul
Panelist at Momenta 1-day Workshop on shooting for non-profits. August 2016
National Geographic Travel Photographer of the Year 2016 - Honorable Mention, People Category
California College Media Awards 2016 - Best Photo Story Honorable Mention
Journalism Association of Community Colleges Award 2016 Photo Story - 1st Place
Los Angeles Center of Photography Member of the Month. February 2016
International Monochrome Awards Contest 2015 Photojournalism category Honorable Mention
Notable Lectures

10 Steps to Make Your Street Photography Stand Out, B&H Event Space, May 2021
How to Find Your Style, B&H Event Space, Sept 2020

Talk and book signing at the Leica Gallery Los Angeles on August 5, 2018
From Street Photography to a Published Book, B&H Event Space, Nov 2017

The Evolution of a Street Photographer, B&H Event Space, Nov 2016

Cuba Changing at Open Show LA. Aug, 2016

Shooting in Cuba Today at the Los Angeles Center of Photography. June 2016

Books
Nowhere to Go but Everywhere (Kehrer Verlag, 2020)
Venice Beach, The Last Days of a Bohemian Paradise (Kehrer Verlag, 2018)
Notable Publications
Newsweek Japan, August 2020
The Guardian, August 2020
The Eye of Photography, August 2020
Leica Fotographie International (LFI) book of the month October 2020
Cover of BETA Magazine and 26-page portfolio in the 33rd issue
Singapore Airlines Inflight Magazine Oct. 2016: 10-page Artist Portfolio Feature
EnFlight.design blog interview by Hon Hoang
Thorsten Overgaard: Interview for overgaard.dk. Oct. 2016
PDN Pulse Blog Interview by David Walker. Sept. 2, 2016
PDN Photo of the Day: Sept. 1, 2016
National Geographic Ask a Local Story (5 opening images) Jul 16, 2016
ABC News: The Changing Face of Cuba (15 images). June 2016.
National Geographic Daily Dozen Selection. May 24, 2016
National Geographic Daily Dozen Selection. Apr 12, 2016
The Leica Meet, Selection of Excellence 2016
National Geographic: 10+ publications in the Daily Dozen Selection in 2015 and 2016
Leica Photography International: Picture of the Week. Week #9 2016
National Geographic: Photo of the Day. Feb. 11 2016